Useful Information:
What's on:
Useful Links

:
Open Practice:
Open Recreational Practice is available to everyone who is able to control speed and direction and can use our button lifts. If you can already ski, have just had some lessons and would like to practice what you've learnt or want to come and just have some fun, then you're welcome anytime! TO BOOK YOUR SESSION PLEASE CALL US ON 01277 211994. Please note that the minimum required standard for Open Practice is to be able to control speed and direction and the ability to use the ski lifts on your own.
Very few sports are able to offer the thrills and excitement of skiing. Whatever your personal aim, with us you will be able to learn and practice on a variety of slopes suitable to your ability level.

You'll get far more enjoyment out in the snow if you've got the skills to explore the mountain with confidence. Practice is also a great way to get in shape before your trip.
Through recreational use you'll be able develop your technique and practice the skills you have learnt in our lessons. This will allow you to improve your skiils dramatically as well as your fitness levels.
Lessons: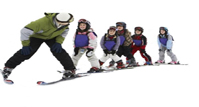 Whether it's your first time on skis, or you want to master the bumps, or maybe fancy yourself at ski racing, we have the right type lesson for you.
On average most beginners require 6 lessons to reach the minimum standard required to practice on our slopes. Our experienced and fully qualified instructors will take your skiing to the next level, ensuring that you get plenty of individual attention, whilst identifying your strong points and helping you master your current challenge.